Finally, after eight years of the anti-worker Berry administration, we have a champion for workers as Mayor of Albuquerque.  Congratualtions to our current State Auditor, Tim Keller, for his impressive win over Dan Lewis, gathering 62% of the vote and also to Cynthia Borrego, for her victory in City Council District 5, gathering 54% of the vote.


We also want to congratulate our other endorsed candidates of city council, Councilor Ken Sanchez, Councilor Klarissa Pena, and Councilor Diane Gibson, each of them won re-election on 
October 3rd
.
"It was a great win for AFSCME members and for all workers in Albuquerque.  We are excited to have a mayor that wants to work with our city employees and not fight us at every step of the way.  Our members go to work every single day to provide vital public services to the citizens of Albuquerque, and it feels good to finally have a mayor that respects the work we do," said Casey Padilla, President of AFSCME Council 18 and AFSCME Local 624.
AFSCME members throughout New Mexico, and particularly in Albuquerque, stepped up their PEOPLE membership numbers, enabling AFSCME International and AFSCME Council 18 to be the two largest funders of the independent expenditure that carried Mayor-elect Keller's message to the public.


AFSCME and AFT also provided the largest number of volunteers and key staff for the New Mexico Federation of Labor's member-to-member program, which knocked on over 5,000 union doors and made almost 60,000 phone calls beginning in August. The NMFL operation was, as usual, housed out of the AFSCME Council 18 hall.


This is the best municipal election night for Albuquerque workers in at least 20 years, so enjoy the victory, but be ready to start being vigilant 
tomorrow
.  The city has a lot of needs, including tackling our crime and poverty problems, and city workers will need to be more active than ever to make sure that the men and women who make Albuquerque work every day aren't forgotten.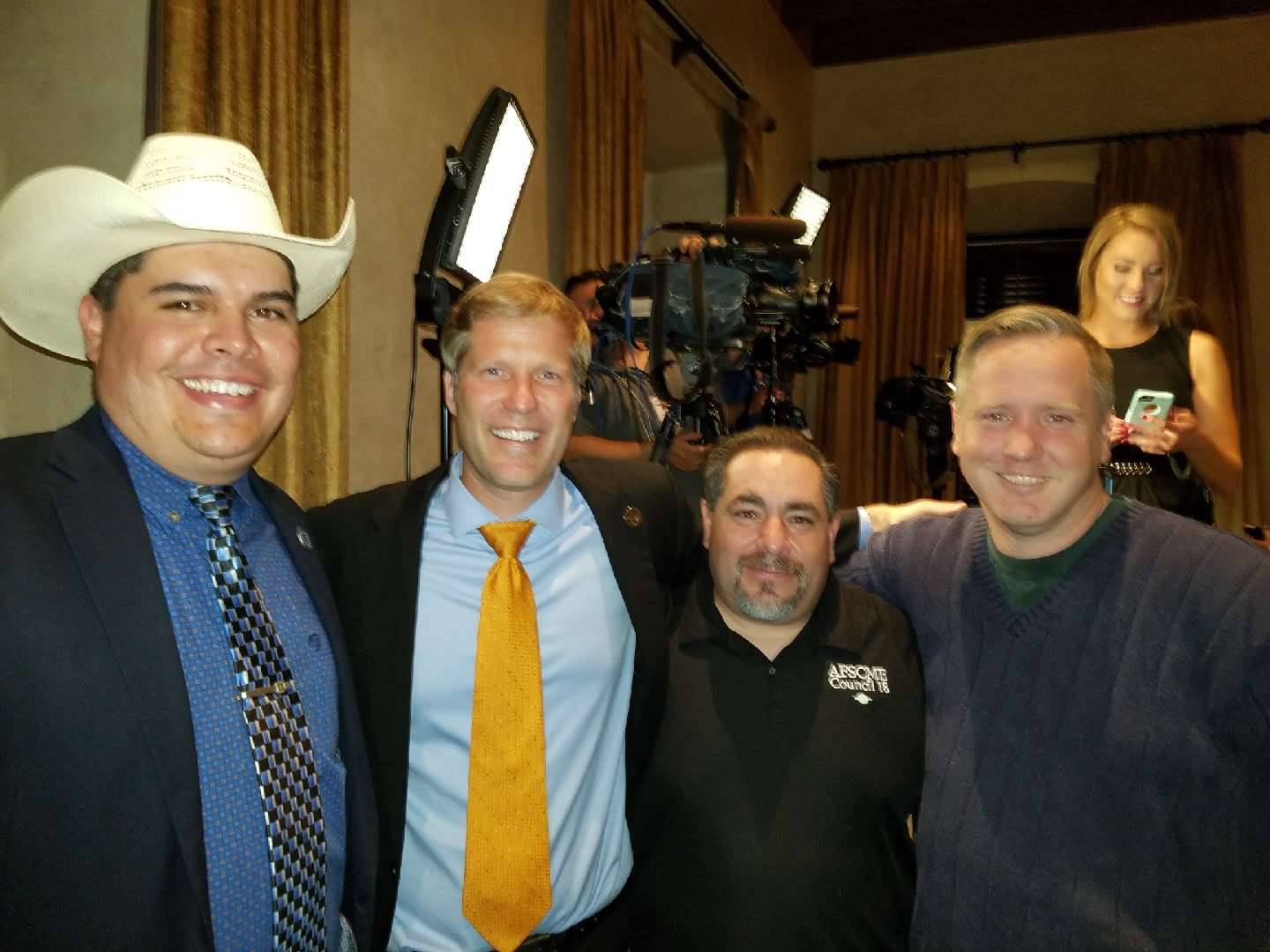 From left to right:  AFSCME Council 18 Treasurer Tirizio "T-Lo" Lopez, Mayor-elect Tim Keller, AFSCME Council 18 President Casey Padilla, AFSCME Local 2962 President Michael Dorin.

As we move forward into 2018, we look forward to working with all of our members to make this kind of change at every level of government.  If you are interested in finding out how you can help in your area, please give Josh Anderson (505-350-2200) or Carter Bundy (505-463-8499) a call TODAY.  And, please visit the JOIN PAGE website to join PEOPLE.  Through PEOPLE we have the power to make a difference in the lives of every single AFSCME member.